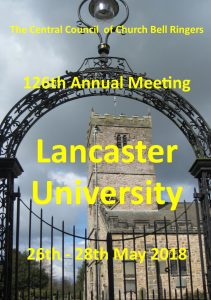 The CCCBR Annual meeting in Lancaster takes place from Saturday 26 to Monday 28 May 2018.  We are trialling a new format for the meeting weekend, based on complementary themes of openness and outreach.
We have negotiated competitive all-inclusive delegate rates with Lancaster University.  To get the most benefit from the events of the weekend (and to get excellent value for money), we encourage all Central Council members to sign up for the full programme
Please complete this booking form as soon as possible to secure your place.  Booking is easy – just follow four simple steps:
Choose accommodation options
Choose meal options (Sunday gala dinner menu choices tba)
Choose Saturday breakout optional sessions and Sunday tower support options
Complete and pay (our booking website supports a variety of payment options)
From December 2017 until 18 February 2018, this booking site will be visible to CC members only.  From 19 February until 29 April, the site will be open to all ringers.  So please book up promptly!
Follow the following links for the current version of the full programme: PDF / Word
To book your place at the 2018 Annual Meeting, please choose from one of the accommodation options below: