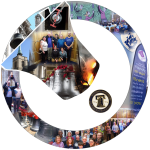 Less than 2 weeks to go now until the Central Council weekend and Mini Roadshow in London.
A huge programme has been put together throughout the weekend and is open to ALL RINGERS, not just Central Council representatives.
Friday 6th September
Afternoon ringing at City churches and other London towers.
Guided tours of St. Paul's Cathedral ringing room and belfry kindly organised by the St. Paul's Cathedral Guild of Ringers
Hot buffet supper at Goldsmiths College followed by an informal quiz evening with a difference
Saturday 7th September
Central Council Workgroup presentations at Goldsmiths College  – come and find out how you can contribute to the Council's work on tower stewardship, recruitment, education,  heritage, technology and composition.
The Ringing World AGM
The 2019 Council Meeting
Act of Worship & Celebration
President's Reception & 2019 Council Dinner
Sunday 8th September
Start the day by taking the opportunity to ring for service at one of 15 City and nearby churches.
21 TALKS by expert speakers including:
Youth ringing (with a panel of young ringers)
Project Pickled Egg (Simon Linford)
ART and Teaching ringing (Lesley Belcher)
Building a bell sound (Bill Hibbert)
Making bells (Tom Wesley)
Bell restoration (Peter Tottman and Michael Royalton-Kisch)
Steve Coleman on 'When ringing had to stop'
17 STANDS
See the unique Carter Ringing Machine, take a browse at the Central Council's library on tour, print a model bell, simple rope making on the Avon Ropes stand
4 TRAINING BELLS AND 3 MINI-RINGS
Try out a Training Bell to see what it could do for your tower or try out one of our three mini-rings
Booking for any of the activities taking place over the weekend is essential.  The programme can be viewed and registration via https://events.cccbr.org.uk/product/annual-meeting-2019/
Last day for bookings requesting support for special access needs (eg disabled bays) or dietary requirements: Friday 23rd August
Last day for bookings for the Inforal Dinner and Quiz Evening on Friday 6th September, Buffet Lunch on Saturday 7th September of the Formal Dinner on Saturday 7th September is Monday 2nd September
Last day for booking ringing at the towers on Friday 6th and Sunday 8th is Monday 2nd September so that the towers can be confirmed.