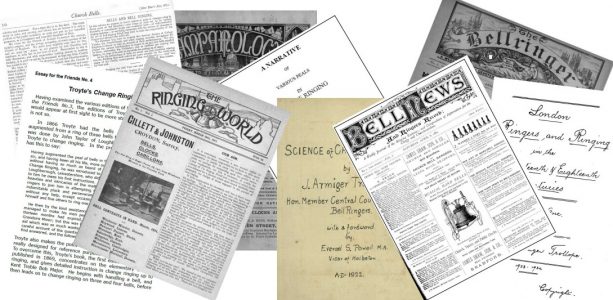 The Library makes available below, in chronological order, various publications of interest to ringing historians and collectors of ringing books. Copyright of the images is held by the CCCBR but they may be downloaded for personal use.
Clicking on a reference will open the document in a new browser window or tab.
The Libary Steward would welcome comments on what is available and possible future developments.
The indexes to Campanology and The Bellringer now have a point-and-click facility, thanks to Tony Smith.
Narrative of Various Peals … and Interesting Cricket Matches (John Carr)
Church Bells
Bell News
Campanology (16 September 1896 – 10 March 1897)
The Bellringer (5 January 1907 – 1 June 1907)
The Ringing World
Trollope Manuscript
The Science of Change Ringing
Friends' Essays
Send to a friend