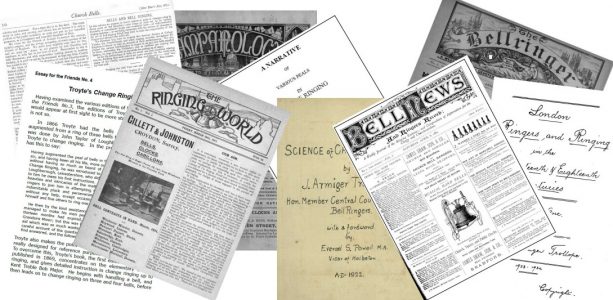 The Library makes available below, in chronological order, various publications of interest to ringing historians and collectors of ringing books. Copyright of the images is held by the CCCBR but they may be downloaded for personal use.
Clicking on a reference will open the document in a new browser window or tab.
The Libary Steward would welcome comments on what is available and possible future developments.
The indexes to Campanology and The Bellringer now have a point-and-click facility, thanks to Tony Smith.
Narrative of Various Peals … and Interesting Cricket Matches (John Carr)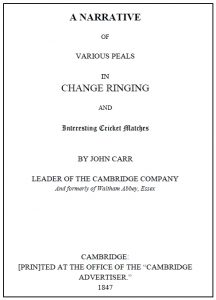 John Carr (1799-1873) learned to ring at Waltham Abbey in Essex. He made something of a reputation for himself in London and the eastern counties by performing handbell touches of Oxford Treble Bob and Grandsire Triples four-in-hand, with his brother, William, ringing the other four bells. Though John spent most of his life in Waltham Abbey, he moved to Cambridge in 1843 and lived and rang there for just over four years. During that time he wrote and published a short pamphlet that described both the ringing expeditions he made around East Anglia and notable events from his earlier life. In addition to his bellringing interests, Carr was an enthusiastic and competent cricketer and some of these successes are also described in A Narrative of Various Peals in Change Ringing and Interesting Cricket Matches.
This transcription is the work of Liam Sims, Rare Books Specialist, Cambridge University Library from the unique copy in Cambridge University Library, shelfmark 1871.7.1093[4]. Liam unearthed the pamphlet at the request of John Eisel, who has formatted this version of the transcription to closely match the layout of the original. A bound copy of the transcription is also held in the CCCBR library.
A Narrative of Various Peals in Change Ringing, and Interesting Cricket Matches
Church Bells
Bell News
Campanology (16 September 1896 – 10 March 1897)
The Bellringer (5 January 1907 – 1 June 1907)
The Ringing World
Trollope Manuscript
The Science of Change Ringing
Friends' Essays
Send to a friend