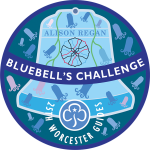 Bluebell's Challenge is a challenge badge aimed at introducing young people to bellringing, and giving existing young ringers the opportunity to earn a badge to mark their progress in ringing. The Challenge is open to all Young Ringers, Girlguiding and Scout Association members.
This Challenge Badge was first created in 2012 by the 25th Worcester Guides in memory of Girlguiding Leader Alison Regan who died of undiagnosed cancer on 12th July 2012 aged 53. As a Rainbow Unit Leader, she chose the name 'Bluebell' because her favourite colour was blue and because she was also a bell ringer!
The Challenge is supported by Virtual Tower Tour video, which can be viewed here on YouTube.
Why we created Bluebell's Challenge Badge.
To develop a Girlguiding badge in Alison's memory inspired by the 1968 Guide 'Bellringer Badge'. The challenges are all related to bells and bell ringing because Alison was an internationally renowned church and hand bell ringer, as well as Tower Captain of All Saint's Church, Worcester, Master of the Worcestershire Association of Bell Ringers and a member of the Worcester Cathedral band.
To raise money for cancer charities so they can find a cure and help those who suffer from cancer (through sale of badges, thank you gifts and fundraising).
To raise awareness of women's cancers, so more women get an accurate early diagnosis. Follow this link for more information https://www.wcrf-uk.org/preventing-cancer/our-cancer-prevention-recommendations/
Send to a friend