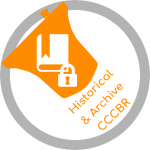 The Historical and Archive workgroup has responsibility to:
develop and manage a comprehensive historical and reference resource relating to ringers and all aspects of ringing.
make these resources as widely known and appreciated as possible within the ringing community and more generally.
Work Group Lead
Library Steward
Chris Ridley

Alan Glover

(01743 891407)
Six Bells House, Worthen, Shropshire, SY5 9HT
The Council's existing collection of books, archives and other ringing related artifacts must be the premier source of information on the heritage of ringing. In addition, we are committed to undertake further research and development of historical information to promote and sustain ringing. Given the wide range of subjects that ringing embodies this work has been grouped around a number of key themes.
Activity area
Topics
Contacts
Belfry artefacts
– Peal boards
– Historical ringing photographs
Biographies
– Biographic records
– Index of published obituaries
– History of CCCBR Committees/Work Groups
– History of ringing societies

– Rolls of Honour








Digital platform for the Council's historic archive resources
– Historical & Archive Work Group website
– Data infrastructure
Historical research and dissemination of information
– Ringing in wider historical perspective
– Engaging/supporting new researchers
– Website et al as source of information
– Promotion of ringing through use of historical data
Library Collection and Friends
– General enquiries on historical information
– Books and archives


– Friends of the Library





Recordings
– Bells
– Oral histories
Ringing artefacts
– Ringing machines
– Library collection of society badges
– Society membership and other certificate
– Society logos
– Historic ringing prints
– Illuminated peal books



As the premier collection of books, archives and other ringing related artifacts the Library is a key historical information source. Further enquires should be address to:
On-line access to certain information is also directly available through the following links:
Useful external information sources
Name
Interests
Richard Andrew
– Biographies
– Peal boards
– Historical ringing photographs
James Blackburn (CCCBR Ringing Machines Steward)
– Ringing machines
Gareth Davies
– Ringing in wider historical perspective
– Dissemination of information
– Engaging/supporting new researchers
– Belfry artefacts
Linda Georgiades
– Friends of the Library
Alan Glover (CCCBR Library Steward)
– Library Collection
– Books and archives
– Society Badges
John Harrison
– Ringer biographies
– Digital platform
– Making information accessible
– Promoting ringing history
– History of ringing societies
– History of CC Committees/WGs
Doug Hird
– Digital platform
– Peal boards
– Historic research
– Dissemination of information
Alan Regin (CCCBR Rolls of Honour Steward)
– Rolls of Honour
Chris Ridley
– Society membership certificates
– Society logos
– Historic ringing prints
– Illuminated peal books
Ian Self
– Friends of the Library
– Biographies
David Underdown
– Biographies
– Historic research
– Dissemination of information
– Digital platform
Send to a friend