We are looking forward to the 125th Annual meeting of the Central Council which will be the first time members will have met face to face since 2019. The base for the weekend is the Clifton Campus of Nottingham Trent University. Directions to the campus can be found here
Outline programme for the weekend is as follows:
Friday 2nd September
Ringing development sessions, in association with the Southwell and Nottingham Diocesan Guild.
Three groups, each running at three different towers. One tower before lunch and two towers after lunch.
This is going to be open not only to members but also to local ringers. We will ask attendees to subscribe, although that will only be so that we know the rough numbers to allow for.
Group 1 – Moving onto Minor methods

11.00 – 12.30 Rempstone
2.00 – 3.30 Thrumpton
4.00 – 5.30 Barton in Fabis
Group 2 – Stedman Triples, Cambridge and Yorkshire

11.00 – 12.30 Plumtree
2.00 – 3.30 Ruddington
4.00 – 5.30 West Bridgford
Group 3 – The Core Seven and Beyond

2.00 – 3.30 Clifton St Mary
4.00 – 5.30 Nottingham All Saints
Evening towers in for open ringing – to be confirmed
Nominated pub is the Vat and Fiddle  https://www.castlerockbrewery.co.uk/pubs/vat-and-fiddle/
There will be a buffet that is bookable as part of the member sign up process which will be live shortly. 
The Welcome Desk at the University will be hosted from 4pm until 7pm (times to be confirmed). It will be located in New Hall, which can be found on the map (number 19 at the top).
Saturday 3rd September
Welcome Desk from 9am to 1pm
9.00 – 11.00
'Networking', meeting Workgroups
New members reception
11.00 – 12.30
Ringing World AGM
12.30 – 1.45 
Lunch
2.00 – 5.00
Council Meeting
7.00 – late
Barn Dance
The Lanes Primary School, Cator Lane, Chilwell, Beston, NG9 4BB
The barn dance is being organised by the Beeston ringers whose previous form in organising such events is legendary! Doors open at 7.00pm and dancing to The Big Moosers will commence about 7.30pm.
There will be a two course hot supper and cash bar; beer supplied by Welbeck Abbey Brewery.
Tickets are priced at £15 each.
We hope as many Council members and friends will support this as possible. We will look at how transport can be arranged if need. 
Sunday 4th September
Service ringing
Sunday service ringing is being arranged at a number of towers which might not otherwise have ringing. Members will be asked to sign up to those towers as a firm commitment to attend. 
Those who want to attend worship will be welcome to join the President at the 9.30 service at Clifton Holy Trinity with St Francis http://cliftonchurchofengland.weebly.com/holy-trinity-with-st-francis.html with ringing before. This will then allow attendees to get to the Roadshow by 11. 
Note that whilst this service is fairly traditional in content with hymns, readings, etc, it is described as 'café church' and as such is around tables rather than in pews.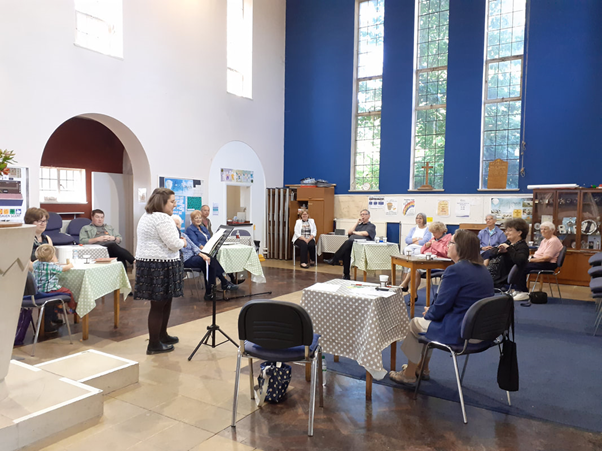 There is also an 11 o'clock Morning Worship at St Mary's Clifton but this would clash with more of the Roadshow seminars
10.00 – 5.00
Roadshow
Eight speaker sessions
Accommodation
There will be some single en-suite bedrooms with breakfast available on the Clifton Campus at a charge of £57 per night.  The booking instruction will be part of the overall booking form for the weekend, available soon on the CCCBR website.
There are Premier Inns at Nottingham South, Nottingham Castle Marina and Nottingham City Centre which are within 15 min drive of the campus.  The best rates and bookings for these can be found on their website www.premierinn.com.  We are aware that the Reddington Premier Inn is already fully booked.
We have negotiated special rates at Hilton Hotels, Nottingham City Centre and East Midlands Airport (M1 j24 Lockington about 8 miles from the campus):
Hilton East Midlands Airport
Single occupancy – £99.00 per room per night
Double occupancy/twin – £109.99 per room per night
Hilton Nottingham
Single occupancy – £154.00 per room per night
Double occupancy/twin – £164.00 per room per night
The offer includes bed, breakfast and VAT and are fully cancellable up to 72 hr before the event. These can be booked through the links on the Hotel names and are on offer 1st come first served basis until 2nd August.
Then for the Hilton East Midlands Airport please use this link.
And for the Hilton Nottingham please use this link.
Send to a friend