The first round of our photo competition, designed to provide an image repository available for media and promotions, Ringing Throughout the Seasons, closed on 4th July.  We had an amazing 63 entries with photos of towers in glorious sunshine, the snow and even some handbell ringers braving the chill. Thank you to everyone who submitted photographs.
This round of the competition was judged by Roger Lawson, both a bell ringer and photographer with over 40 years' experience. Roger has been a wedding photographer for over 25 years and has photographed many bellringers' weddings. He has a sub-specialism of photographing bells in-situe.
The winner of this category and of £50 Amazon voucher is a photograph of Dunblane Cathedral and Holme Hill from the west on a sunny winter day in December 2010, taken by Chris Frye. Roger described this image as A well composed and lit shot that attracts attention and evokes a true feeling of the cold of winter with the church as a focus for the season.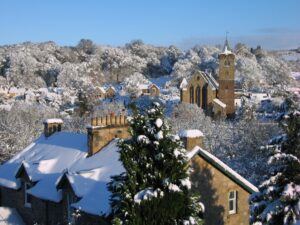 The two runners up are of Marston Bigot, also in the snow, taken in 2009 by Vicki Rowse which Roger described as another well captured and composed image that seems to lead you along the lane, through the gate and into the church.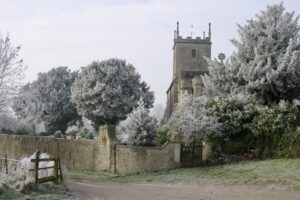 And "All together boys", taken at St Matthew's, Wookey as the bells were being removed for retuning and repairs to the frame on a very cold, frosty day in December 2010, taken by Neville Whitney.  Roger said that this image was a good interpretation of the brief with a dynamic scene that actually shows the elements of an obvious season and an activity that is part of bellringing.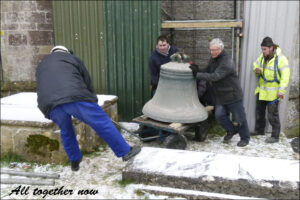 Congratulations to the winner and runners up and a huge thank you to Roger for judging this first round. Vouchers are on their way.
The next round of the competition is now open and is all about Bells and Installations.  This could be anything from bells in their frame, bells in motion, handbells, carillons, mobile rings, ornate inscriptions, unusual installations and so on.  Please do make sure you have read the instructions fully before submitting an image.  As before, images will be moderated before being published.  The closing date for this category is 15th August 2021. The winner of each category receives a £50 Amazon voucher with two runners up receiving a £25 voucher each.
To see the instructions and upload your images go to https://cccbr.org.uk/competition/
Vicki Chapman
CCCBR Public Relations Officer
Send to a friend