The fourth category in our photo competition has now concluded Ringers in Action, closed on 19th December.  With 50 entries this time round it was great to see the range of ringing and ringers, both tower and handbell.
Our judges for this round were Colin Newman and Davd Bassford.
Colin learned to ring in Essex aged 10, becoming tower captain at the age 16 and District Master at the age of 19. He is currently an ASCY representative on the Central Council, and there leads the Council's Workgroup for Schools and Youth Groups finding and documenting ways to encourage and inspire potential young recruits. Colin gets involved in all levels of ringing from teaching of handing skills to ringing peals of Surprise Maximus. He gets the most pleasure from observing others, especially youngsters, develop and achieve high standards.
Dave learnt to ring at Gotham in South Nottinghamshire, aged 11, becoming tower captain at 15.  Dave moved to Bristol at 19 and made the very most of lots more opportunities for university ringing and was Master of the UBSCR in his second year and later president of the society. Dave was Ringing Master at Bristol Cathedral in the early 2000s and rang regularly with local beginners practices each week. He moved to London in 2008 and has been ringing at St Paul's Cathedral for over ten years. He is currently Master of the MCALDG and has run numerous training courses, particularly via Zoom during lockdown. A teacher by profession, Dave is never happier than when helping learners make progress.
Our winning photo in this category is "St Mary's Kingskerswell (The New Ringing Chamber)" by Philip Stevens.  The judges said "this was an excellent quality and very interesting image. It clearly shows 'Ringing in Action' in a clean and tidy environment which we are sure we all wished our ringing chambers looked like. The decision to present this image in monochrome was a real winner and the strong use of light and shade make elements like the wall hangings add great texture to the image".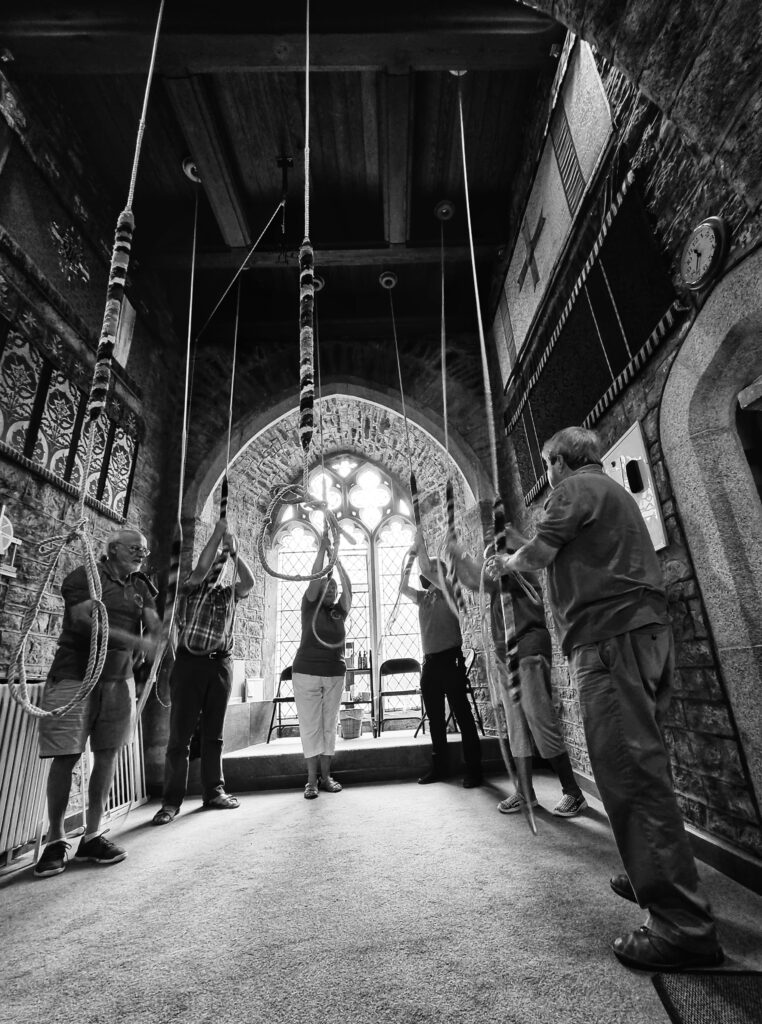 Our first Runner Up is "Liverpool – Pier Head" by Scott Adams.  The judges felt "Although this is an old photograph, it shows the real teamwork required in ringing. Pulling up a 42cwt back 8 in peal requires a lot of skill and muscle action".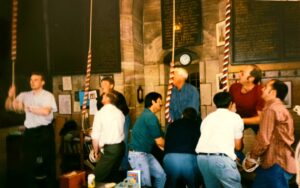 Our second Runner Up is "Raising the 2nd at Gedney" from Val Wild.  The judges thought "This is a very well framed picture. The sally falling perfectly vertically perfectly complements the many other vertical lines in the image whilst the long shot down the nave of the church firmly anchors the ringer as a member of the church community".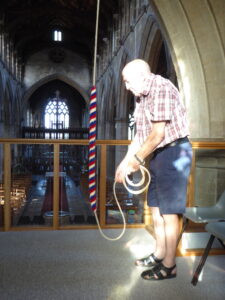 Congratulations to the winner and runners up and a huge thank you to Colin and Dave for judging this category. Vouchers are on their way.
The final round of the competition will open in the New Year, details will be posted shortly. The winner of each category receives a £50 Amazon voucher with two runners up receiving a £25 voucher each.
To see the gallery and instructions of how to upload your images when the next category opens go to https://cccbr.org.uk/competition/
Vicki Chapman
CCCBR Public Relations Officer
Send to a friend