The Stewardship and Management workgroup regularly reviews all aspects of Tower Stewardship and can offer advice and recommendations on matters including insurance, tower management, safeguarding, risk assessments, church law, health & safety, fire risk, complaints, etc.
A number of guidance notes are available below on common subjects. Some of the existing guidance notes are currently being reviewed and updated so if you cannot find what you are looking for or require further information on a particular subject please contact the Stewardship & Management workgroup Lead:
A more detailed table indicating what we do is here.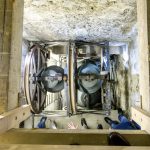 Tower Infrastructure
Information on equipment and installations used in ringing (including chimes, handbells and mobile belfries):
For comprehensive information on Belfry Maintenance, the Central Council's Manual of Belfry maintenance is available for purchase through the online shop:
This updated publication covers a wide range of topics relevant to the maintenance of church bells and bellringing – towers, bells, frames, fittings, ropes, sound control, the faculty system, health & safety and more. It includes a schedule for regular maintenance and hints on how to identify more common problems. The key amendments in the 2020 version are in chapter 2 (Faculty jurisdiction …) following legislative changes made by the Church of England.
Tower Operation
Major Projects
Contacts
Send to a friend