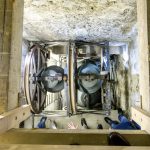 We offer advice for ringers and those responsible for bells and associated infrastructure, on aspects of managing and running a tower. We aim to help make ringing as safe as possible, and tower environments welcoming and pleasant places in which to ring. We also offer advice on technical aspects of bell installations and how to organise major bell restoration and installation projects.
A detailed table indicating what we do is here.
Tower Infrastructure. This page contains information on equipment and installations used in ringing.
Tower Operation. Information and guidance notes on all aspects of tower operation, including regulatory requirements and good practice.
Bell Projects. Information and advice on all aspects of bell projects, fund raising, project planning, management, and wrapup.
Send to a friend