The third category in our photo competition has now concluded Bells in Art, closed on 8th October.  With fewer entries this time round it was interesting to see the interpretation given in this category which included anything from stained glass, church kneelers, Christmas decorations and larger outdoor sculptures.
Our judge was John Fenn, who studied art and has worked since as a metalworker, bronze smith and woodcarver, carving wood blocks for conservation wallpapers in many houses, as well as more sculptural pieces. John has engraved many fine detailed dies used in metal crafting as well as designing and cutting medals. John is a painter in oil and watercolour with a particular interest in the study of Iron Age art on sheet bronze and has been a photographer for many years and of course most importantly is a bell ringer.
John commented that he found it very difficult to judge, all the photographs were excellent but felt the subject material, the use of the bell in art was the most significant element to consider. This was approached in surprisingly different ways by entrants, who faced with the disciplines of the subject had a very wide field of options. Three stood out as good photographically, encompassing something that was either intrinsically artistic as an image, recorded the bell as a device in a notable and cultural setting or made a link to the bell in a powerfully evocative and immediate way. In the nature of a competition therefore John has made the following selection from the entries, and would like to thank all entrants who sent such interesting and varied pictures for selection.
Our winning photo in this category is "Stained glass window at St Machor, Aberdeen" by Lian von Wantoch John noted this was interesting as a well-designed use of the bell as art in the stained glass window. However, the photograph added a further dimension, cleverly including the remarkably elusive images of the monuments seen through the glass. Creating a sympathetic addition to the image that encompassed the role of bells that are rung and heard by us for our brief temporal existence, but ring for centuries through time.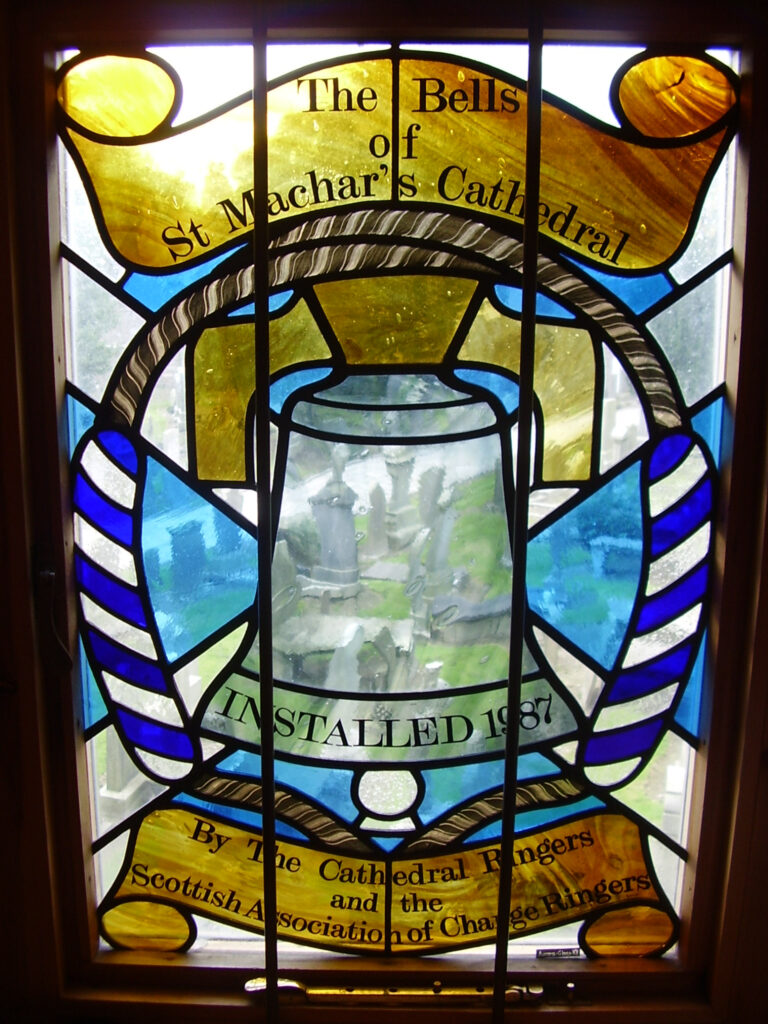 Our runner up photos represent two very different subjects: "Warwick Poppy Bell" by Phil Hope is was a powerfully evocative photograph that was skilfully and sensitively carried out, resulting in a truly emotive statement, on several levels, commemorating bell-ringers themselves.  The photograph showed an unexpected contrast between the rigid bronze of bells and the soft petals of the red poppies and all they convey.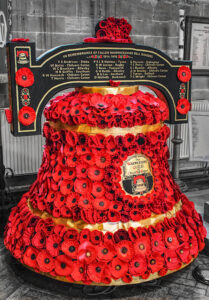 "Carved bell in Bath Stone" by David Towell. The sculptured bell on the Bath Circus was notable on several counts.  It was outside the immediate church environment and used on a classically inspired building, selecting the bell and establishing it as an important cultural motif. The photograph was clear and showed the honey-coloured stone and the bell carving to advantage.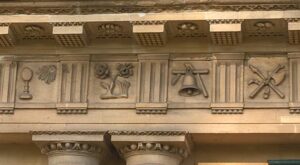 Congratulations to the winner and runners up and a huge thank you to John for judging this category. Vouchers are on their way.
The next round of the competition will open soon after a few finer details have been confirmed. The winner of each category receives a £50 Amazon voucher with two runners up receiving a £25 voucher each.
To see the gallery and instructions of how to upload your images when the next category opens go to https://cccbr.org.uk/competition/
Vicki Chapman
CCCBR Public Relations Officer
Send to a friend