Standing Guidance
The guidance for ringing in England, Scotland, Wales and Ireland is considered separately here in line with different national rules and guidance from the respective Churches. With the latest level of lockdowns the guidance in each country is very similar. Each country is working along its own roadmap for reducing restrictions and our roadmap is based on that. Thankfully it is nearing an end. It is important to note that the governments' roadmaps are as yet silent on what amount of social distancing and facemasks are going to be needed in the final stages and even beyond the full lockdown release. For England for instance, we know there are a number of government teams working on those questions (social distancing and facemasks) and they are not due to report until the end of each roadmap period, and even the 21 June date is now in question.
Attending a Place of Worship is specifically allowed by law as a 'reasonable excuse' provided it is to worship alone or as a household group (the Church of England's guidance can be found here). The ringing of a single bell or Ellacombe chime (or bells in the case of a ringing household) as part of an act of worship is not prohibited, and if you think it is important enough for a bell or bells to be heard in your community, and you can do it without putting yourselves or others at risk, then that is your decision to make.
The country is now following the 'Rule of 6' indoors. Guidance for this period can be found here.
A new one page summary of all current guidance is available here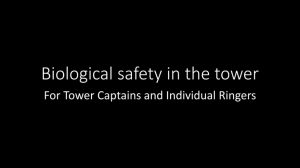 In Scotland places of worship have now reopened with strict 2m social distancing, enabling ringing on that basis where possible, and subject to any individual circumstances or your church. The move to 'stay local' now should enable more travel to towers within the local authority area. Discussions are underway with one of the churches to try and accept reduced distancing based on the England and Wales guidance.
Wales has now moved down to Alert Level 3. This is more permissive than England as it allows 15 to meet indoors although it doesn't say you have to. Guidance for Wales can be found here.
Ringing is returning to towers in Ireland based on local interpretation of government guidance.
---
The Central Council is not itself responsible for the implementation of these guidance notes, and the spirit underpinning all your decision making should be one of reasonableness and responsibility, taking into account the public health messaging from local and national leaders at all times, and in consultation with Chapters/PCCs, incumbents and churchwardens.
This guidance is being constantly updated to keep in line with any changes in the Church's own guidance and policies, which can be found at the bottom of the page. This website will be updated weekly on a Friday, whether or not there is a change in guidance, unless a more urgent update is necessary. Any requests for clarification can be sent to president@cccbr.org.uk – it will get looked at as soon as possible.
Guidance Notes
These documents are intended to be succinct and easily readable. They do not contain all the detail that could be put in them but instead focus on the key issues.
Further detail about tower safety and risk assessments can be found on the Tower Operation tab here:
https://cccbr.org.uk/resources/stewardship-and-management/
Updates
Additional Guidance
The UK Government guidance for the safe use of places of worship during the pandemic can be found via this link
The Church of England guidance on Opening Cathedral and Church Buildings can be found via this link
Frequently Asked Questions
Frequently asked questions were updated on 2nd October, removing questions the answers to which are now common knowledge, and adding in more recent concerned such as what to do in areas of increased lockdown and whether or not ringing on simulators is possible.
Additional Information
A detailed analysis from Dr Philip Barnes and Dr Andrew Kelso is available to download.
This document seeks to provide information and advice for ringers and those responsible for bell towers regarding Coronavirus Disease 2019 (COVID-19) and what issues ringers and church authorities should consider in responding to changes in Government guidance as we start to ease the current lockdown. It is focused on the situation in the Church of England, which is responsible for the vast majority of churches with bells hung for ringing. While the specific advice from leaders of other churches and in other countries may vary, the basic issues for ringers and ringing are the same wherever we ring.
Useful Links
Send to a friend