Standing Guidance
The guidance for ringing in England, Scotland, Wales and Ireland is considered separately here in line with different national rules and guidance from the respective Churches. Each country is working along its own roadmap for reducing restrictions and our roadmap is based on that. Thankfully it is nearing an end although the delay to the removal of restrictions in England was as a great disappointment and inconvenience. It is important to note that the governments' roadmaps are as yet silent on what amount of social distancing and facemasks are going to be needed even beyond the full lockdown release.
Ringing guidance for the period from Monday 19 July has now been agreed with the House of Bishops Recovery Group and can be found here. Restrictions have largely been released at this time when Government is stressing personal responsibility, although there is still guidance on such matters as facemasks in certain circumstances, and the importance of ventilation in towers. There are no longer restrictions on how long you ring for, or with how many other people.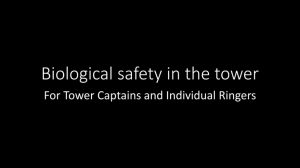 The Scottish Association is now providing guidance to towers in Scotland and that advice can be found here.
Guidance for Wales has been updated for the situation since 7 June and can be found here.
Ringing is returning to towers in Ireland based on local interpretation of government guidance.
---
The Central Council is not itself responsible for the implementation of these guidance notes, and the spirit underpinning all your decision making should be one of reasonableness and responsibility, taking into account the public health messaging from local and national leaders at all times, and in consultation with Chapters/PCCs, incumbents and churchwardens.
This guidance is being constantly updated to keep in line with any changes in the Church's own guidance and policies, which can be found at the bottom of the page. This website will be updated weekly on a Friday, whether or not there is a change in guidance, unless a more urgent update is necessary. Any requests for clarification can be sent to president@cccbr.org.uk – it will get looked at as soon as possible.
Guidance Notes
These documents are intended to be succinct and easily readable. They do not contain all the detail that could be put in them but instead focus on the key issues.
Further detail about tower safety and risk assessments can be found on the Tower Operation tab here:
https://cccbr.org.uk/resources/stewardship-and-management/
Updates
Additional Guidance
The UK Government guidance for the safe use of places of worship during the pandemic can be found via this link
Useful Links
Send to a friend